These days, most health care providers have adopted compliance and ethics programs that include some or all of the following:
A Code of Business Conduct
Compliance and Ethics Policies and Training
A hotline for reporting potential improprieties
Misconduct investigations
Corporate Compliance and Ethics Week is a national week-long event, traditionally held the first full week in May, which highlights the importance of ethics and compliance in the workplace. Its purpose is to help employees make appropriate business decisions that may affect relationships with co-workers, customers, suppliers, business partners, legislators, and regulators.
"For health care providers, the goal is to reduce fraud and abuse, and improve quality of care," said Sandy Cunningham, VCPI Director of Program Management Office (PMO), Service Desk, Professional Services and Field Services.
Compliance and ethics programs should be designed to prevent and detect violations of applicable regulations and laws by the agents, employees, officers, and directors of a healthcare organization.
"It's doing the right thing, even when you think no one is looking," said Cunningham.
Technology plays a key role by supporting a provider's ability to actively audit and monitor employee activity.
"Use technology as leverage to improve quality outcomes, starting with the areas of greatest risk for the provider," added Cunningham. "Don't try to boil the ocean."
High-risk health care areas include: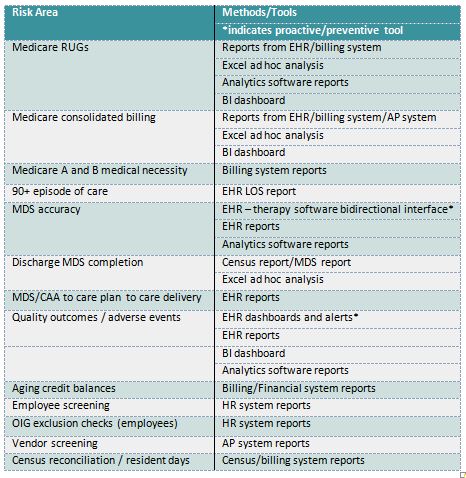 VCPI recommends the following proactive technology tips to health care providers in developing and monitoring their compliance initiatives:
Use truly integrated clinical and billing software applications whenever possible
Eliminate redundant data entry
Effectively use dashboards and decision support systems
Achieve consumer (resident and family) engagement through portals and social media
Use business intelligence in your Quality Assurance and Performance Improvement (QAPI) program for a data-driven, proactive approach
Leverage interoperability and health information exchange (HIE) to manage transitions of care, decrease hospitalizations, achieve medication reconciliation, and decrease unnecessary and duplicative procedures
Designate a Compliance Officer
Design and implement a formal, documented compliance program
Identify and address risk areas, including those directly related to the use of technology
Develop internal controls and an auditing and monitoring program
Educate and train, monitor and act based on outcomes
Leverage technology wherever possible
Talk to your Account Manager or Sales Manager to learn more about how VCPI can help you address your compliance requirements: Submit a form or call 877.908.8274.