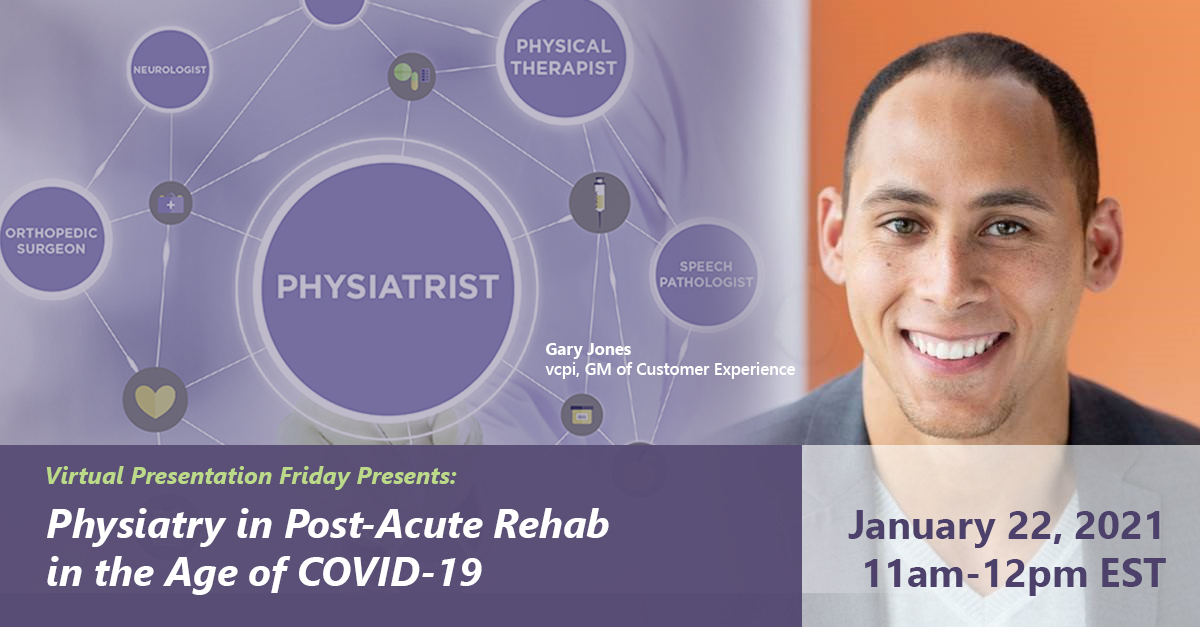 As part of Micah Hunt's popular "Virtual Presentation Friday" event, vcpi's Gary Jones joins Dr. Deborah Oranchak and Glen Rundell on January 22, 2021 from 11-12 EST for a live discussion focused on the role of physiatrists (physicians specializing in rehab and tele-rehab) in restoring functional ability and improving outcomes for those with physical or cognitive impairments or disabilities.

Physiatrists are a crucial part of caregiving for patients and residents in Senior Living centers who benefit from the specialist care provided by these professionals.
You will learn how physiatry is now being effectively delivered remotely in the age of COVID-19. The panel will also discuss an emerging long-term post-COVID-19-related physical, cognitive, and emotional condition which includes post-intensive care syndrome, a type of post-traumatic stress.
This program will offer 1 participant hour of continuing education credit through the Virginia Assisted Living Association as authorized by NAB/NCERS.
Please RSVP to Micah Hunt at mhunt@ggrva.com to attend this educational program!
Deborah Oranchak, D.O., is a board-certified specialist in Physical Medicine and Rehabilitation with 18 years of clinical experience. Dr. Oranchak has a specific interest in non-narcotic pain management and the use of modalities in order to relieve discomfort. Her goal is to assist in the prevention of hospital re-admissions and improve patient outcomes for individuals who are recovering from illness or injury.
Glen Rundell, founded National Physiatry to improve the rehab process for sub-acute, post-op patients. As CEO Glen currently is leading enhancements to the company's telerehabilitation (telerehab) program and spearheading a secondary data collection pilot program supporting the successful use of telerehab and physiatry with post-acute and skilled nursing patients/residents.