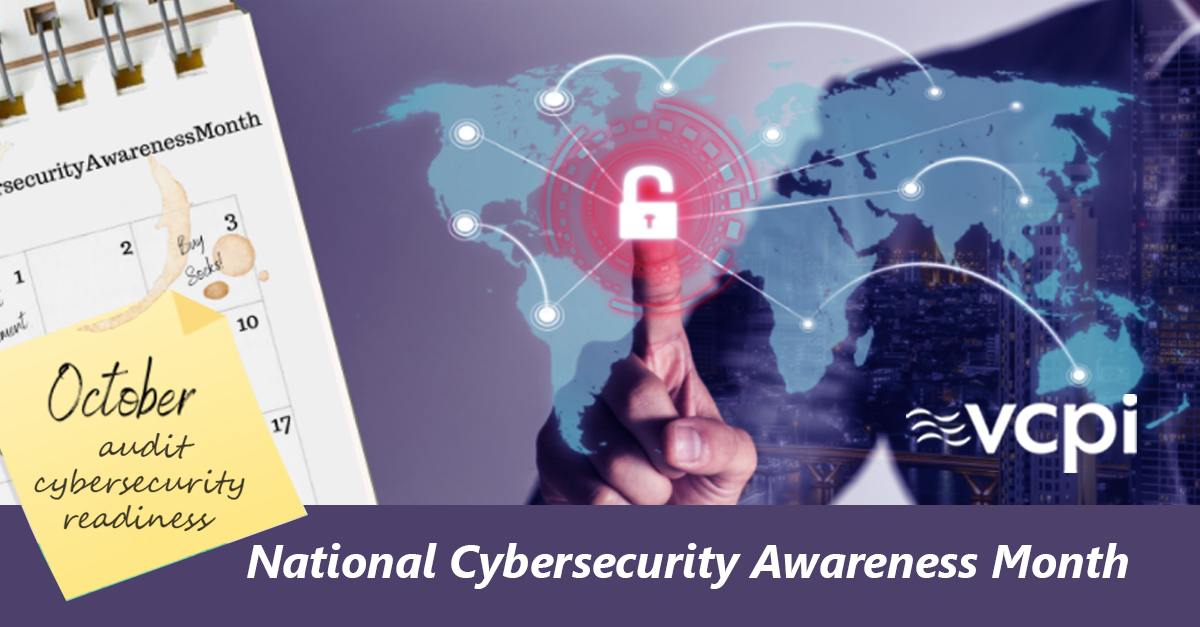 October is National Cybersecurity Awareness Month. This is the perfect reminder to audit your cybersecurity infrastructure, policies, and procedures. Doing this annually will help keep your Senior Living or Post-Acute Care organization safe from cybercriminals.
Serious threats to personal and organizational data are at an all-time high. Personal Health Information (PHI) is highly valued by cybercriminals for the completeness of information it contains and the ability for this information to be sold readily on the dark web. A PHI breach is subject to HIPPA fines and being prepared to respond to a breach is a fundamental part of an IT management plan.
Everyone in your organization needs to be educated on how to remain diligent in protecting themselves, and thus your organization, from data theft and privacy breaches.
Here is a list of cybersecurity elements and best practices to help you protect your organization.
Keep your anti-virus, software, and operating system up to date.

Use multifactor authentication.

Never share your passwords.

Avoid using common words, phrases, and personal information when creating passwords.

Verify an email's authenticity by contacting the sender.

Never give personal information over the phone or in e-mail.

Don't click on links in e-mails.

Turn on pop-up blocker and never click on any pop-ups.

Beware of look-a-like links. These links will have a similar spelling to a legitimate organization or will end in .net instead of .com.

Equip mobile devices with Mobile Device Management software to remotely secure and track stolen hardware.

Always use the privacy settings in social network apps.

As with e-mail, clicking unknown links within social networks places your devices at risk. This includes strange friend requests, messages, and even innocent-looking videos.

Prepare your staff with security awareness programs.
With often limited IT resources and tighter budgets small and mid-sized businesses are prime targets for cybercriminals. This is why vcpi partners with organizations like KnowBe4 , Cisco, Miradore, and Microsoft to provide the appropriate cybersecurity solution for your organization.
Visit https://www.vcpi.com/security and then contact vcpi to learn how vcpi can help your Senior Living or Post-Acute Care organization with cybersecurity infrastructure and response planning as well as security policies and procedures so you are ready for whatever cyber threats come your way.