Senior living is one of the most regulated industries in the country. Senior living litigation is on the rise and multimillion dollar verdicts are not uncommon. New state and federal statutory claims, burdensome eDiscovery demands, and arguments against arbitration agreements have made resolving disputes difficult without invasive legal proceedings.
Electronic Discovery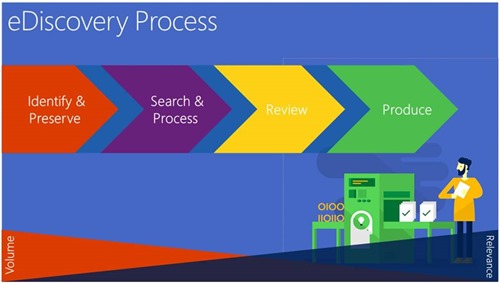 Electronic discovery (also called eDiscovery) is a formal process that seeks to locate, collect, secure, and search electronic data for the purpose of presenting it as evidence in a civil or criminal legal case or investigation. As shown in the image from Microsoft to the left, in the end, the goal is to produce data that is relevant to a case. eDiscovery is a dynamic and evolving field that is a unique blend of technology and law.
Senior living litigation often involves the need for eDiscovery due to a heavy dependence on electronic communication and data entry.
An IT Solutions Provider should be ready and able to assist and work closely with clients and their legal representatives to ensure compliance by participating in defensible technical processes to reduce risk when the client is facing litigation.
Litigation Support
When a senior living organization requires litigation support, it is likely that their IT Solutions Provider will be called on to assist with the collection, preservation and delivery of electronically stored information (ESI) whenever electronic data is referenced in a legal matter or investigation.
When litigation is pending, the law imposes a duty upon the client to preserve all documents and records that pertain to the issues. Both organizations and individuals have a legal obligation to identify, preserve, collect and ultimately produce information related to the matter under discovery. A litigation hold directive supersedes a retention policy. With a mandate to preserve applicable ESI, the client and their IT Solutions Provider must then work in tandem to ensure an appropriate legal hold is implemented and enforced.
By utilizing the technical prowess of knowledgeable IT staff who also have the backing of comprehensive eDiscovery applications like Symantec's Clearwell eDiscovery Platform, a client will be ready to address all stages of legal discovery to ensure full compliance with a litigation hold directive.
Email Retention Policies
Not knowing how long to keep ESI, including messaging, can lead to confusion and indecision. Not having a policy which dictates the terms of expiration of ESI can also put an organization at risk.
Drafting and maintaining a sound and defensible retention policy for all ESI is key to a successful outcome in a litigation dispute.
The IT Solutions Provider can proactively assist clients with developing retention policies based on business needs, as well as any legal and regulatory requirements. This type of constructive partnership is likely to produce scalable and defensible policies that can be technically enforced.
Data Restoration and Recovery
Since litigation involves disputes over past events, the process often involves the need to retrieve archival elements that are no longer present in a live production environment. The need to retrieve ESI from archival storage is a common occurrence in the senior living sector. The IT Solutions Provider is often responsible for collecting data as instructed, and through the most efficient means possible.
Efficient technology such as disk-based data restoration and recovery services decreases the risk of missing demanding legal deadlines.
A strong IT Solutions Provider is also fully capable of efficiently implementing restorations from legacy storage media such as magnetic tape.
Conclusion
An IT Solutions Provider plays a critical role in the eDiscovery and litigation support process whenever ESI is involved. Together, the client and its IT support can build a defensible, proactive measure to limit risk through well-defined retention policies that can be technically enforced.