Patient care is an integral part of the senior living workflow. Finding a way to distribute care across patient channels is difficult enough. But, what about employee care? All of those caregivers who are baked into the senior living architecture need access to quick, accurate IT support that allows them to continue to produce results, without unnecessary frustrations.
To provide this support, many Senior Living and Post-Acute Care rehabilitation providers choose to implement a service desk or help desk to tackle those mission-critical IT problems. But, what's the difference?
What separates a service desk from a help desk?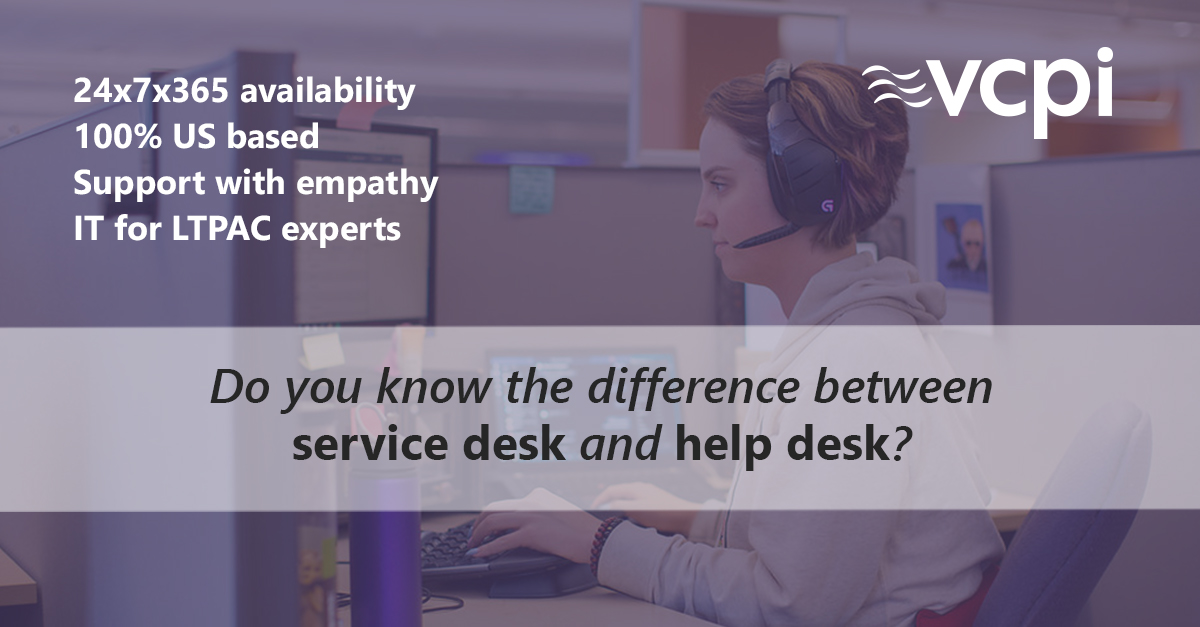 Understanding Service Desks and Help Desks
While the differences between service desks and help desks are partially semantic, there are a few stark differences that give each their own unique value proposition. In the past, service desk and help desk were largely interchangeable terms that both referred to the same processes and services. But, today, they each play a unique role in the business ecosystem, and many of their components differ in both function and meaning.
PC Magazine defines a help desk as "A source of technical support for hardware or software. They are staffed by people who can either solve the problem directly or forward the problem to someone else." The main processes that drive help desks are rapid delivery and contact-point fixes. A robust help desk should serve to quickly fix incidents at the point of contact.
Information Technology Infrastructure Library (ITIL) defines a service desk as "The single point of contact between the service provider and the users. A typical service desk manages incidents and service requests, and also handles communication with the users." Service desks act as both an incident resolution point and a point of IT engagement and communication.
Let's elaborate further.
Help Desk vs. Service Desk
While these two functions may sound similar (and they are in many ways), there are some differences that make both impactful in their own way. To think about service desks and help desks together, it makes sense to think of service desks as an evolution of a help desk. Rather, service desks evolved out of help desks, but use different mechanisms and strategies to create forward-thinking IT resolutions.
Best-of-breed service desks should be capable of handling incident reports and common IT questions in a customer-centric environment. The service desk framework is deeply ingrained in "service" — or providing comprehensive IT support across all channels.
So, if users contact a help desk, they should expect to have their problem solved. If users contact a service desk, they should expect to have their problems solved in a customer-centric environment that attempts to glue multi-layered support (solving both the immediate and long-term problem) and comprehensive IT strategies to their ticket.
Help Desk and Service Desk Checklist
To help clarify further, let's go over a checklist of what service desks and help desks both provide.
Help desks provide:
Rapid incident fixes
IT support tickets
Software and hardware fixes
Service desks provide:
Rapid incident fixes
IT support tickets
Software and hardware fixes
An open line of IT communication
Service requests (e.g., how to install software, how to set up a new device, IT questions related to onboarding, etc.)
Staff trained to approach IT in a customer-centric manner
So, service desks provide extra communication support layered over the traditional help desk architecture. While the framework of help desks can be critical in times of IT emergencies, they lack the fluidity or flexibility to handle large-scale IT problems that involve communication and additional layers of support. A service desk provides full-service IT support across channels that are meant to act as a service, rather than simply a solution.
Understanding the Role of Service Desk in Senior Living
Senior Living and Post-Acute Care providers that want to stay competitive and industry-dominant adopt a wide variety of digital tools. Whether that be SaaS tools, cloud architecture, AI, or the host of technology like mobile devices, digital printers, etc. On top of all these technologies, senior living providers need the networking architecture and physical hardware to support all of these tools and services.
But, with all of these wonderful digital tools comes a massive pain point. You have to be able to handle the IT support to service these tools. Caretakers are going to need assistance with tool usage during their day-to-day job. Attempting to service all of these needs with your core IT staff will undoubtedly lead to backlogs and disrupted workflows.
Service desks alleviate IT pain points by providing a point-of-access for all of your employees basic IT needs. So, instead of submitting tickets to the IT team for every password reset, printer issue, and user profile complication, all of these questions can be referred to the service desk — freeing up your IT team to tackle mission-critical service issues.
Remember, service desks are hinged to customer-centricity and evolutionary practices. In fact, 56% of all service desks use customer surveys to create actionable changes in their service architecture. This attention to adaptability helps service desks remain fluid in a rapidly evolving IT environment.
Service Desk Statistics
If you're looking to see the effectiveness of service desk solutions, take a look at some of these statistics.
It's fair to note that vcpi routinely exceeds the service desk success levels listed here.
Why are these statistics important?
These statistics show that service desks are proficient at solving first-level problems and advanced incident reports via their ability to provide consistent, ongoing training and adapt their practices to customer surveys. Service desks help employees help patients.
Looking for a Service Desk?
If you're a senior living provider looking to either supplement their existing IT team with a service desk or you're looking for a full-service service desk option, contact us. Our processes help you bake customer-centric IT practices into your incredible care service.
We provide incredible 24×7 service desk solutions that will help your caregivers provide the best possible care in an environment free from IT stress. To learn even more, check out our case study.