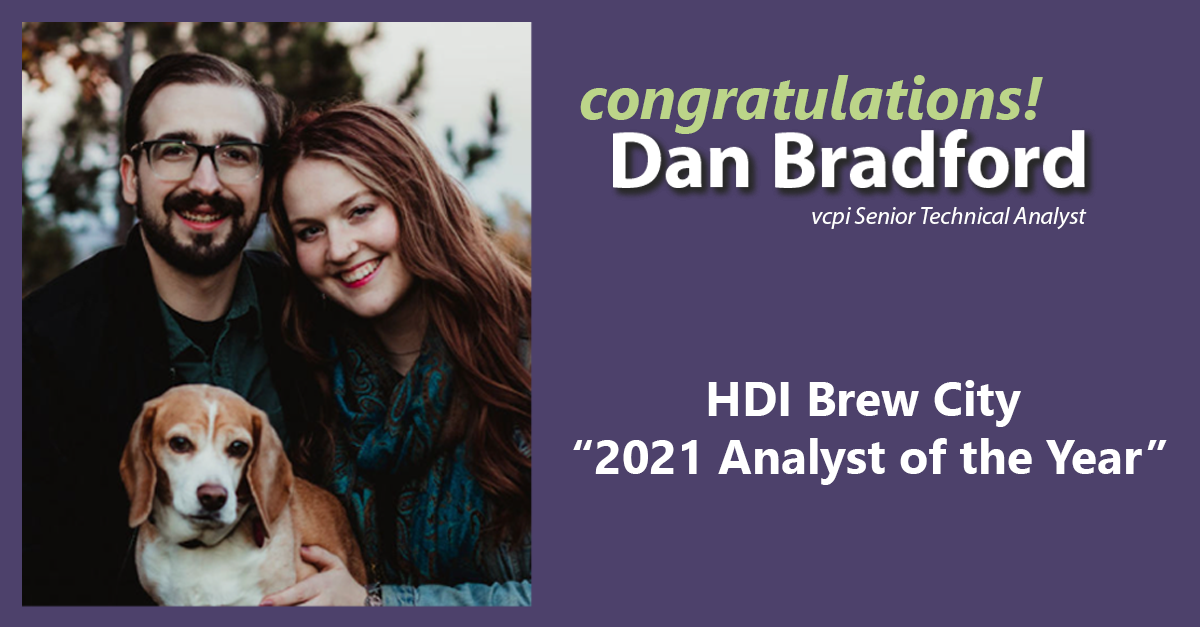 In 2004 HDI, an international organization for technical support professionals, introduced the Analyst of the Year award. Each year, HDI works with their local chapters around the globe to identify the industry's top first-level support analyst. Individuals who are nominated at the local chapter level compete with their peers locally, regionally, and globally for this prestigious award.
This year we are excited to announce that vcpi's own Dan Bradford was presented with the 2021 Analyst of the Year award for HDI's Brew City chapter. Not only did Dan win the award but he is also the first person in Brew City chapter history to achieve a perfect score during the selection process! This is an incredible professional achievement for Dan and formally recognizes Dan's top-notch technical skills, teamwork, and customer service. Dan will now go on to represent the Brew City chapter in regional and national competitions.
2021 marks the sixth year in a row that a member of vcpi's Service Desk team has won the Brew City chapters Analyst of the Year award. This is also the first time in HDI history that a company anywhere in the HDI global membership has won this award for six consecutive years! We believe this achievement is a fitting testament to the vcpi Service Desk team's commitment to excellence in providing outstanding technical support to vcpi's customers, 24 hours a day, and 365 days a year.
The entire vcpi organization extends our gratitude to Dan Bradford and our team's past award winners for consistently demonstrating how vcpi strives to be the best IT services partner for our customers. Visit vcpi.com to learn more about our IT services for Senior Living and Post-Acute Care providers.