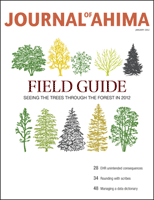 Are you ready for 2012?
Hopefully, your answer is "Yes!" But, like most people, time has probably slipped away from you and you feel like you're overwhelmed and starting the year behind where you should be. Don't panic just yet. There is still time to get your business in order.
The Journal of AHIMA (American Health Information Management Association) ran a great article in the January issue on the top 10 areas you should be focusing on in 2012. For instance…
If you wait until the last minute to schedule time with ICD-10 consultants, you'll find they are already booked through the implementation deadline. "Organizations have been signing advance contracts with vendors and consultants in order to beat the rush," says Sue Bowman, RHIA, CCS, director of coding policy and compliance at AHIMA*.

"The push for ACOs puts additional importance on the need for accurate and well-organized health records and improved information flow," according to Lydia Washington, MS, RHIA, CPHIMS, director of practice leadership at AHIMA. HIM departments will have to better integrate health information across multiple organizations, pulling and pushing records as the group coordinates patient care*.

The state-level HIEs must become self-sufficient before funding runs out, but recent studies conducted by industry groups show many HIEs do not have solid sustainability plans in place. With only two more years of anticipated government funding left, 2012 will be a vital year for HIEs to identify a solid sustainability plan and get it in place*.
…and there's much more information in the article to help you maneuver your way through all the changes and regulations taking place in our industry. Read it now and start 2012 off on the right foot!!
*Journal of AHIMA, January 2012